Amazon Filler Item Finders To Qualify For Free Shipping
Guest author Jessy Troy shares her Amazon shopping experience:
I have done a lot of shopping on Amazon in the past. So much that I ended up signing up for their Prime service in order to get free two day shipping on the epic number of orders I make every month. It paid for itself in weeks, or so my husband claims. Before that, I had relied on the Super Saver Shipping that you have probably seen them offering each time you put something in your cart.
The way that this service works is by calculating your costs and shipping orders of $25 or more for free. However, there are restrictions that limit what items qualify for this calculation, and if your order is not made up of those products equaling at least the minimum amount, it won't count.
You also have to keep in mind that the ship time is 5-9 business days, rather than 4 – 6 like usual. It can only go to an address in the US, and only a single address, so there is no sending gifts as part of the order to another location. Still, even with this fine print it is a pretty good deal. Amazon has a habit of racking up costs on shipping pretty quick.
Probably the biggest problem that people have with SSS is that they come up short by a few bucks, or even a few cents. This used to happen to me all the time, and so I made a list of items that make good filler for those last couple of dollars to qualify.
Of course, these were still items that I could use, and so it is a matter of "to each their own". Which is why I was happy to find a number of websites that were made to make searching for Amazon fillers a breeze. Check out these five websites that will get the job done.
FillerSeek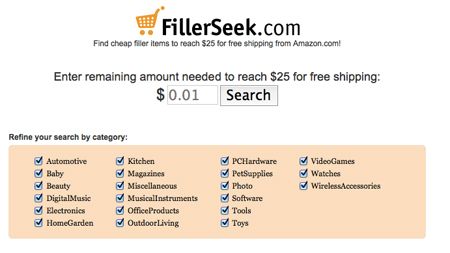 FillerSeek is a nice little site that works by providing you with a quick and painless search straight on the homepage. There is a section where you type in how much money you need to spend to get the saving, and then isolate what categories you want to shop from. This helps you to specify items that would be useful.
The amount can be as little as $0.01. The results will give you a price, description and photo of the product. Clicking it will take you to the Amazon page for you to add it to your cart.
Filler Item Finder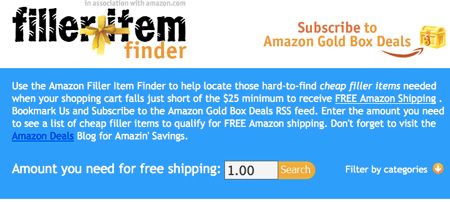 Not quite as simple, you type in the amount you need to buy and then select "Filter by categories." The good thing about this site is it specifies more directly than FillerSeek, as it lets you choose product types within the categories prior to search, This targets your results and make it faster to navigate.
The updates on the products aren't automatic when things change, which is a negative. Sometimes, you arrive at the Amazon link to find it has gone up or down in price without the product description being edited on Filler Item Finder
Filler Item

Filler Item is very much like FillerSeek. However, it has a Firefox extension and a Greasemonkey script, which is a major plus. There is also a Popular Items section that displays in bold with an image. These will sometimes make it much easier to find something you would like to buy.
SuperFillers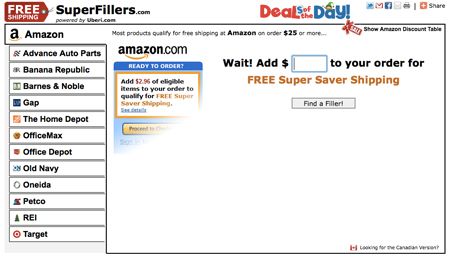 Another basic search site, this one has categories separate than the price and item search on the main page. However, it works a little bit faster than some of the other sites, and the results are usually nice and accurate.
You can select a popular brand from the sidebar, and there is a Canadian version through a link at the bottom of the page for those of you up North.
ClickFiller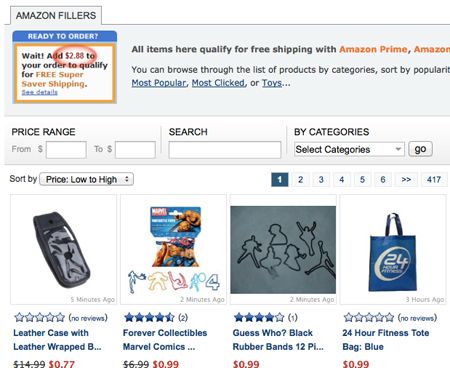 This site has made it their mission to make it easier to ignore junk products that offer themselves as good filler items. You can sort by most clicked, discounte, bestselling and other features, which pushes anything less desirable to the bottom of the barrel.
But you don't have to do a search at all, if you don't want to. The most popular items are listed pages long from the front, each to sort through by pic, description and price. If you do want something specific, look by price, search keyword and category.